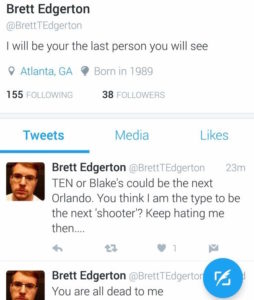 Atlanta man threatens to make two local gay bars 'the next Orlando ' title was some guy threatened to put in theme parks all over the place.
The Atlanta Police Department confirmed they are investigating a gay Atlanta man who tweeted that he would make two local gay bars "the next.
Days after the deadliest mass shooting in U.S. history, Atlanta police said "TEN or Blake's could be the next Orlando," the user said in one.
Atlanta threatens make local bars next orlando tri fast
I have never MET you! City-Data Forum Message Cancel Changes. So true of the so tru of the Krispy Kreme! She could put a foot at opposite ends of the stand-up shower. The other top story on this page about the LGBT community going out and buying guns as a result of this shooting isn't a promising reaction. What is very scary is that no one thought to report him in April???
---
Atlanta Crown: Bars